The assignment for this week was to incorporate Celtic Style Prayer at least 4 times per day.  Celtic Prayers are short, simple prayers that cover almost everything that your life encompasses.
There are prayers for getting up, for getting dressed, for daily chores and for going to bed.  There is a lot to be said for a prayer that as you are getting dressed you ask to be clothed in the love of God.  Or a prayer for churning butter where you acknowledge that it is a chore done for God.  This style of prayer completely underlines the ways in which God is present in every part of our lives.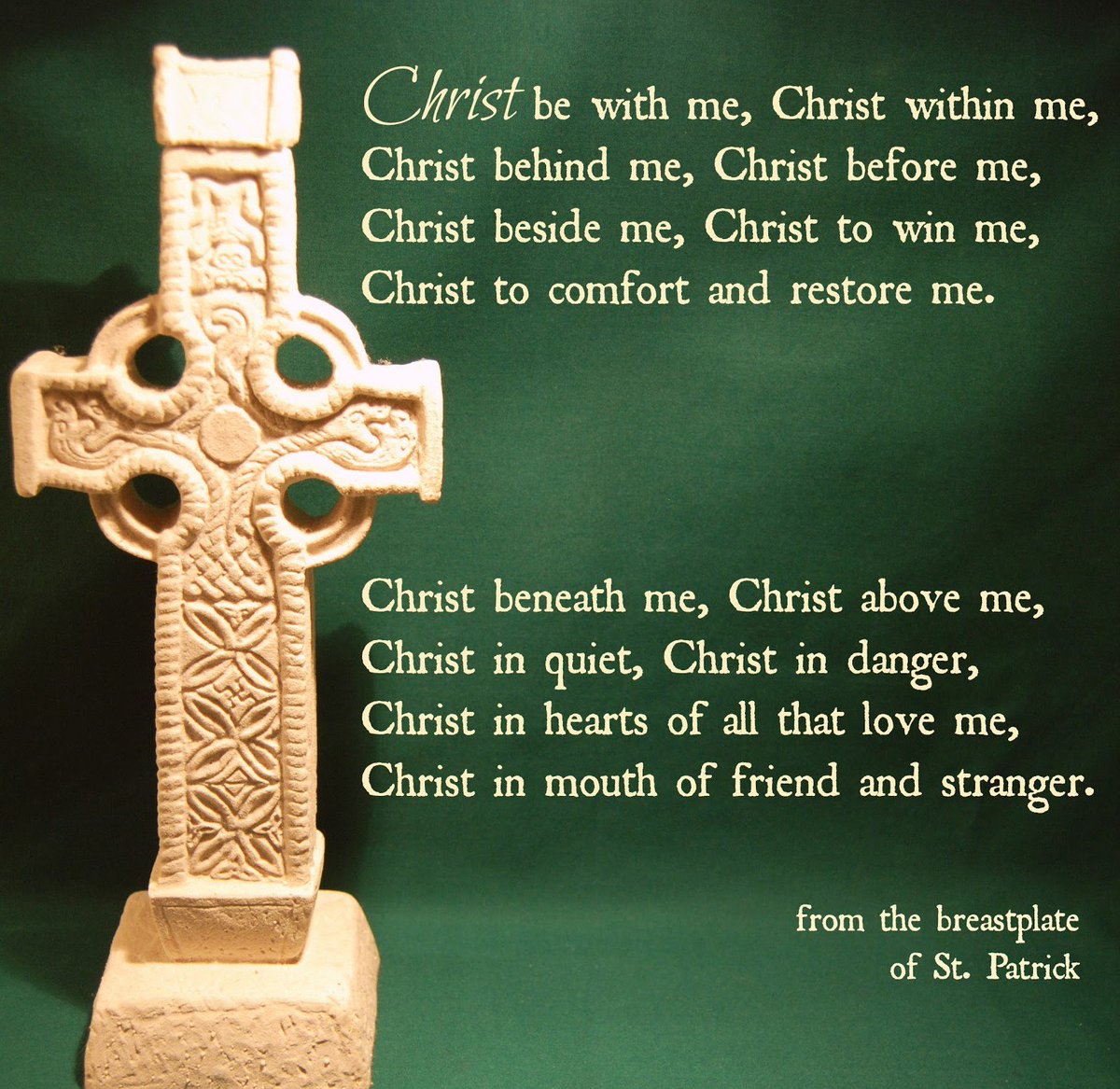 Last week I shared St. Patrick's Breastplate.  It is a prayer in which we are surrounded completely with God.  First it starts by binding unto ourselves the protection and qualities of God.  Then it surrounds us with Christ, before, behind, below, above.  I find this prayer very comforting and a reminder that I am never alone.
One of the things that I have found as I have prayed my way through the days is that it leads to me thinking more about God.
Not that this is new.  I often find that I get caught up in something and spend time thinking about God in it.  I miss portions of shows that I want to watch because a character said or did something that made me stop and ponder what God's place is in it.  Or I read Scripture in the morning and find myself thinking about it so long that my coffee gets cold.  It's a darn good thing that my calendar reminders have a nag feature because I am sure that I could miss something when caught up in these thoughts.
A long while ago I read a book called, Creative Brooding.
As an image it is powerful.  I imagine a hen sitting on a nest, in constant awareness of the eggs and shifting and checking to make sure they are all warm.  It is sitting with a purpose to nurture growth.
When applied to our relationship with God that is powerful.  Essentially when caught up in these thoughts we are Brooding upon the kingdom things in a creative way.  Nurturing our relationship with God, learning from him, growing in his love.  Sometimes those thoughts end up in a sermon or a blog or sometimes they just take me down a long detour.  But whatever they do, they keep me in contact with God and that for me is important.
I think that's why the style of Celtic Prayer is to pray often, as a reminder that God is always with us. So whether praying or brooding or otherwise going through our day, we are reminded that everything we do, we do unto God.
DO UNTO GOD
Desire of my heart
O Holy One
Unto you I lift my prayers and my thoughts
Nuances of your grace fill my life
Touches of your love flood my being
Opening me to desire your will
Grant me the protection of your presence
Order my life to follow your way
Deepen my dependence upon you, that you may be glorified  Amen